04 Nov 2021

BDA members' fantastic successes and achievements were celebrated tonight at the BDA Virtual Awards.
The evening recognised outstanding individuals, teams and committees within the dietetic profession in 2020/21.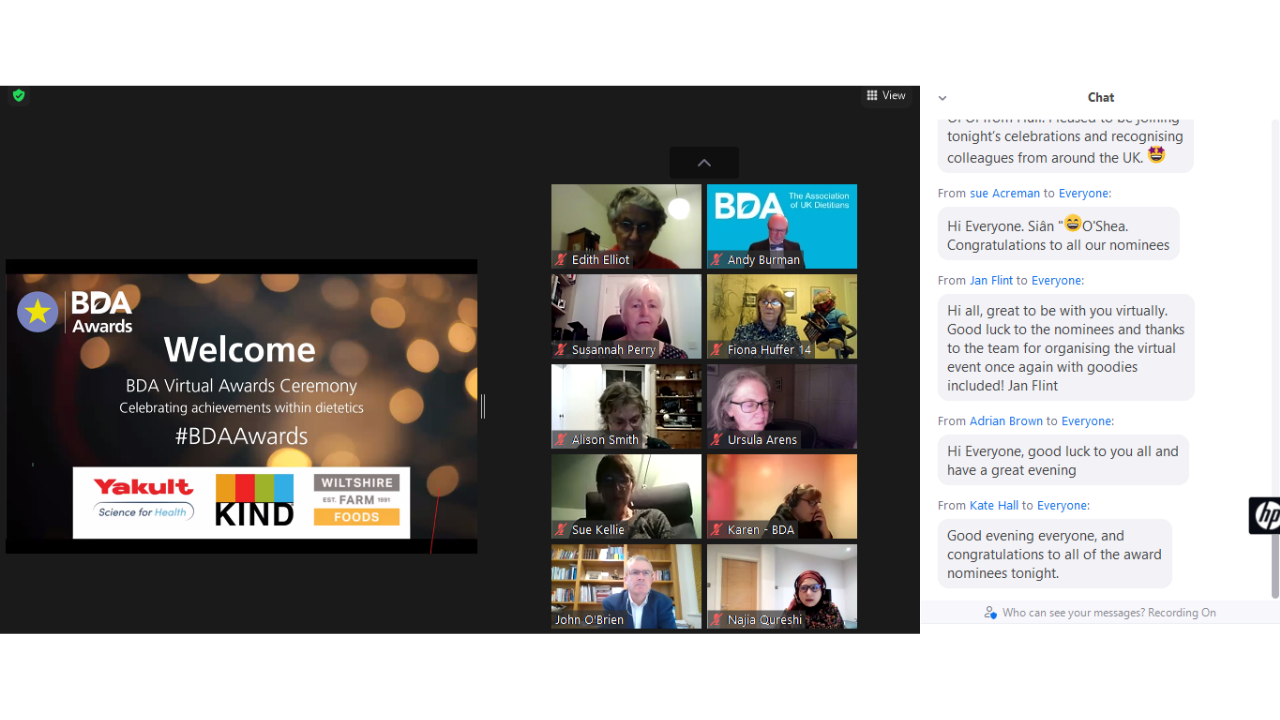 More than 200 joined us for the virtual awards ceremony - with 19 BDA and GET awards and honours handed out on the night.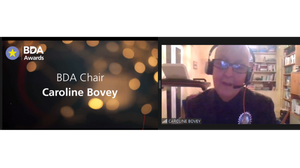 BDA Chair Caroline Bovey, who oversaw the evening, said: "The BDA awards ceremony is the social event of the Association year. This is the second event that we have run online but despite that, it was just a successful and enjoyable as always.
"This is the Association event of the year in which we celebrate the phenomenal achievements of so many of our members, our specialist groups and our regional branches. Whilst we are still experiencing the effects and impacts of the COVID-19 pandemic, it is clear that we have so much to celebrate together."
---
Click below if you want to skip straight to an award.
---
Thanks to our sponsors KIND Snacks, Yakult and Wiltshire Farm Foods for their generous support.

---
This year we wanted to recognise a fuller range of dietetic achievements and were proud to present four new awards.
Inaugural winners
The newly created Dorothy Hopwood Award for Professional Achievement recognises a dietetic support worker/assistant who has made a valuable and significant contribution to the profession.
Shortlisted: Leanne Fawcett, Savanna Jackson, Julie Mason
Awarded to: Julie Mason
The judging panel said: "Julie works as a Dietetic Assistant in the Oncology and Inpatient dietetic team at University Hospital Coventry and Warwickshire NHS Trust. She was nominated by her colleagues who said she truly is a valuable member of the team and that they cannot function without her."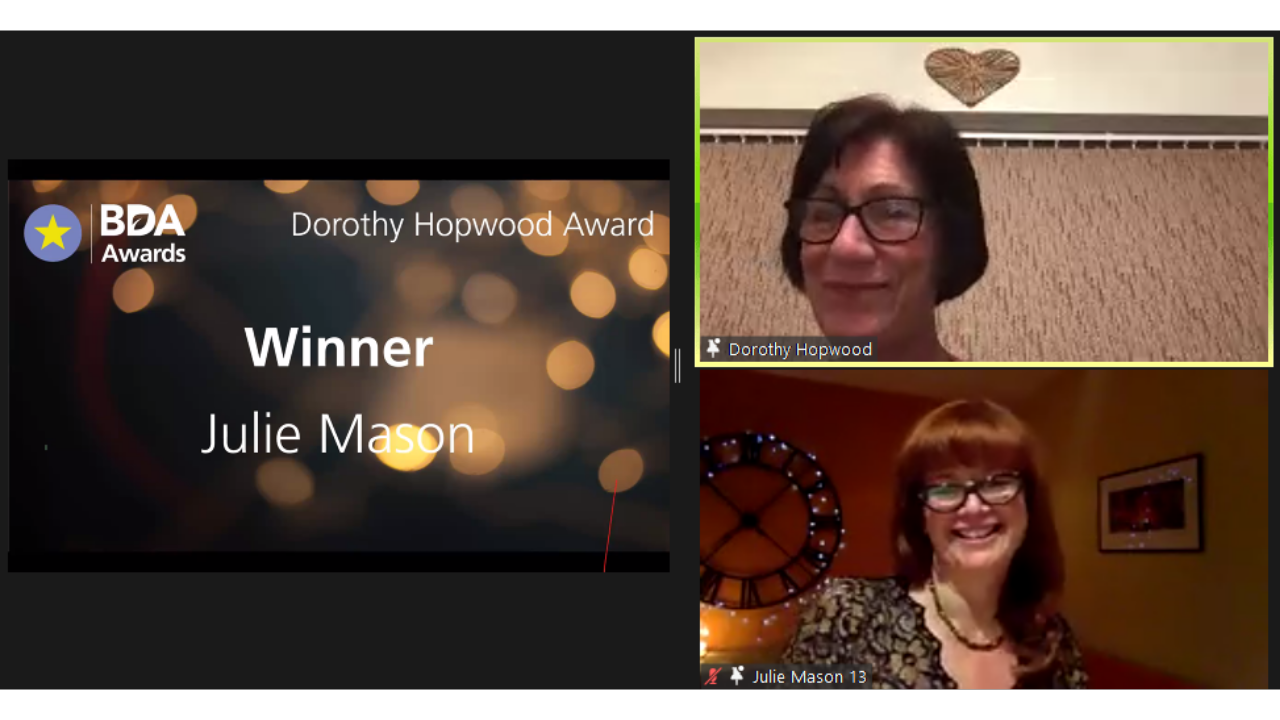 Our next new award for extraordinary circumstances celebrates members who go above and beyond to support the dietetic community in times of rapid change and disruption. This year it was related to the COVID-19 Pandemic Response.
Presented to: Critical Care Specialist Group
The judging panel said: "Throughout the last 18 months the Critical Care Specialist Group committee have demonstrated an extraordinary commitment to supporting, educating and leading the dietetic community through the crisis of the pandemic. Through their philosophy of compassionate leadership the committee have been united in providing dietitians with the tools and knowledge needed to provide safe, responsive and effective patient care.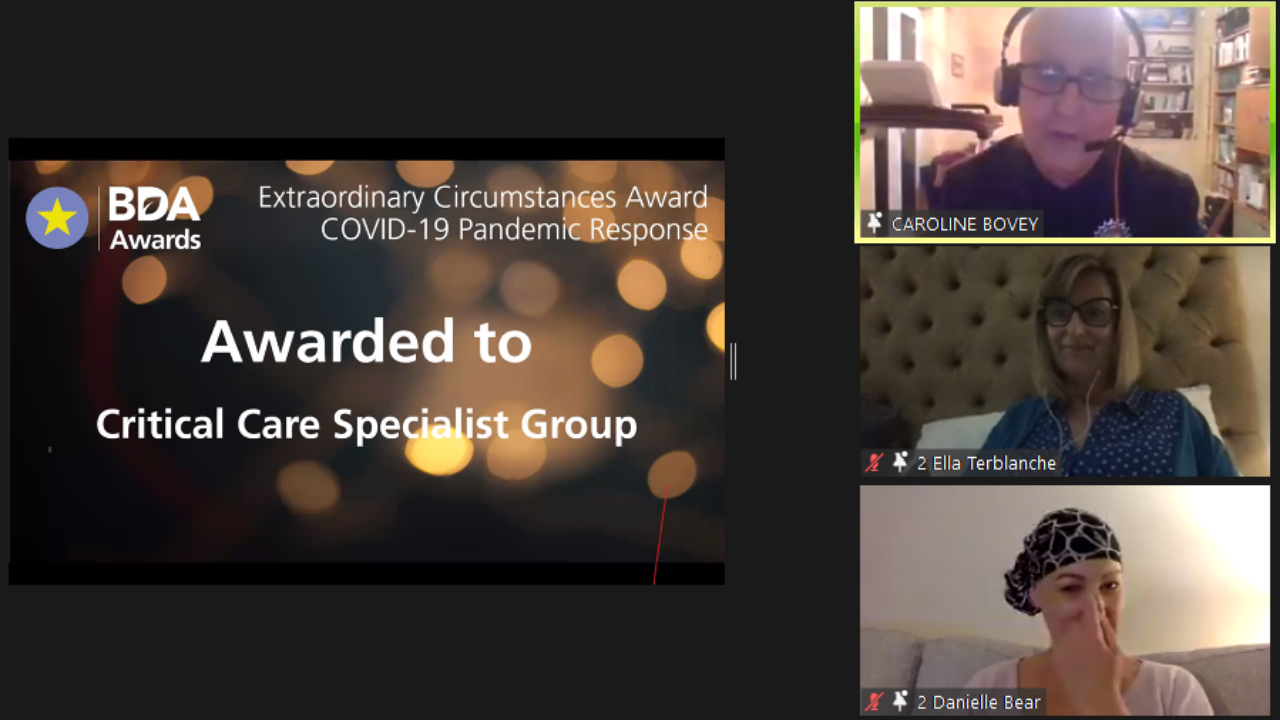 "The committee worked tirelessly, and often at short notice, with BDA staff to provide their expertise, guiding staff, critical care dietitians and redeployed dietitians through the complexities of the pandemic and working with little established evidence on COVID-19.
"They were able to quickly develop a range of practical guidelines and tools that could be implemented across the UK, whilst simultaneously providing a community space for dietitians to share experiences and knowledge and showcase the importance of dietitians in recovery and rehabilitation following critical care.
"Their care of dietitians working in the specialism during this time continues with support and community being offered to dietitians experiencing burnout and trauma sustained from their experiences. Alongside this ongoing support, future training and education is being developed to allow new and existing dietitians to build the skills and knowledge needed for a career in critical care.
"The committee has been vital to the BDA's response to COVID-19 pandemic and have led the dietetic community through the most difficult of times with grace and fortitude. We thank them for everything that they have done and continue to do."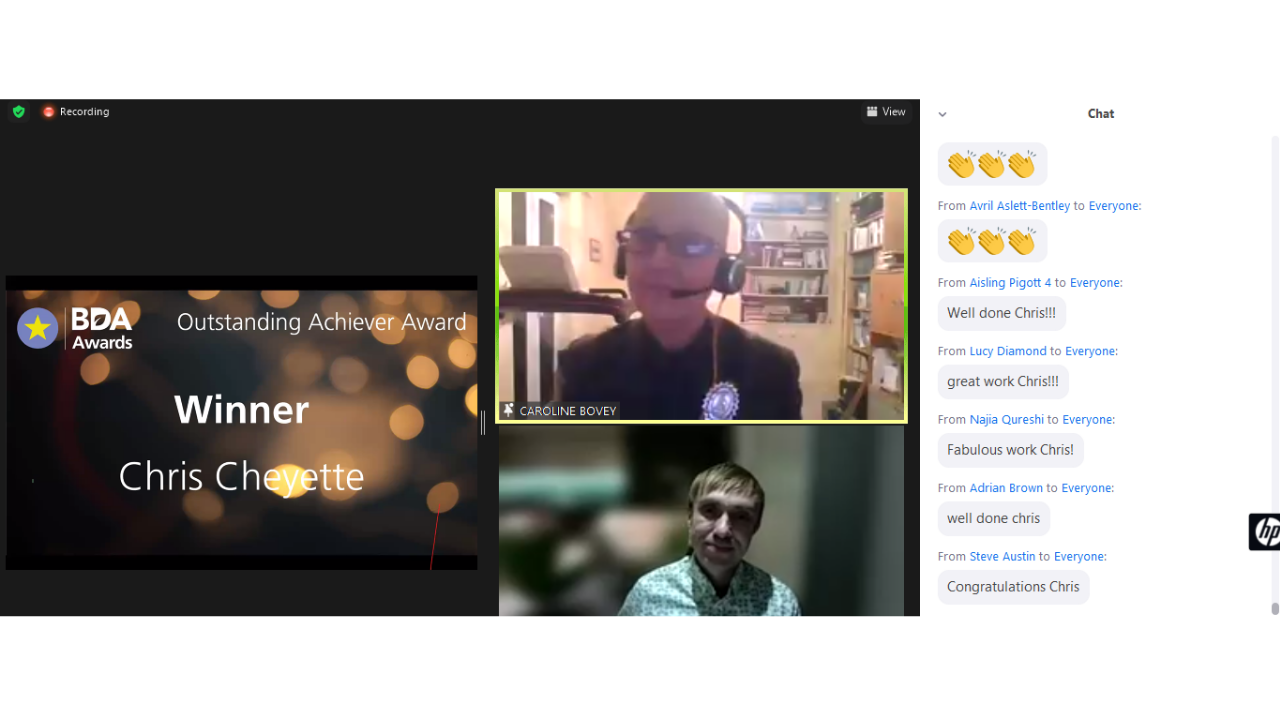 The new Outstanding Achiever Award was created to recognise one person who has created significant impact in the profession throughout their career and has been working in the profession for ten years or more.
Shortlisted: Sarah Almond Bushell, Chris Cheyette, Fiona Huffer
Awarded to: Chris Cheyette
The judging panel said: "Chris has been working in the NHS for 20 years. Most of his career has been spent working as a Diabetes Specialist Dietitian. He is probably best known for being the author and co-founder of Carbs & Cals - a range of bestselling books and app that have helped hundreds of thousands of people with diabetes and weight management around the world."
Sponsored by KIND Snacks, the new Social Media Influencer Award celebrates an individual or group who has been particularly influential on social media. It could be across a range of social media channels or just one, and could be a specific campaign or a range of activities.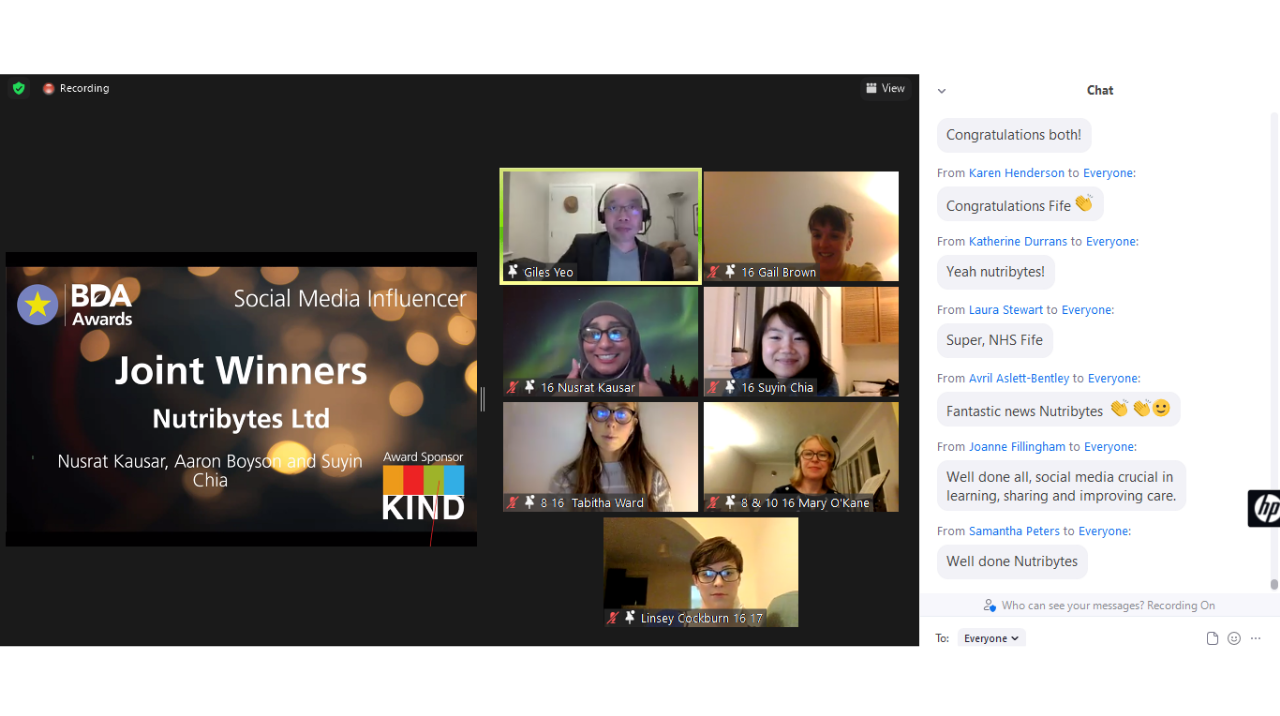 Shortlisted: BDA Obesity Specialist Group, NHS Fife - Nutrition & Dietetic Department, Nutribytes Ltd, Tai Ibitoye
Jointly awarded to: NHS Fife - Nutrition & Dietetic Department and Nutribytes Ltd
The judging panel said: "A social media group within NHS Fife Nutrition & Dietetic Department was established in November 2019 to allow for the development of their digital platforms, their Facebook page was launched in June 2020 aiming to engage with the public and other professionals.
"Nutribytes is a creative media company founded by a group of registered dietitians - Nusrat Kausar, Aaron Boyson and Suyin Chia. Nutribytes produces patient explainer videos on various health and dietary topics, and creates online educational webinars and workshops to facilitate better learning for all healthcare professionals on evidence-based nutrition related topics."
Celebrating innovation and new talent
The Digital Innovation Award recognises outstanding achievements in integrating technology into dietetic practice.
Shortlisted:
Implementing a Digital Healthy Weight and Type 2 Diabetes Prevention and Management Service in Argyll and Bute HSCP
Patient education on-demand webinars by NHS clinicians available at the point of diagnosis for free use by patients and NHS teams
Development of the Oviva CMPA 2.0 programme
Awarded to: Implementing a Digital Healthy Weight and Type 2 Diabetes Prevention and Management Service in Argyll and Bute HSCP (Submitted by Jessica May Fletcher and Jackie Barron)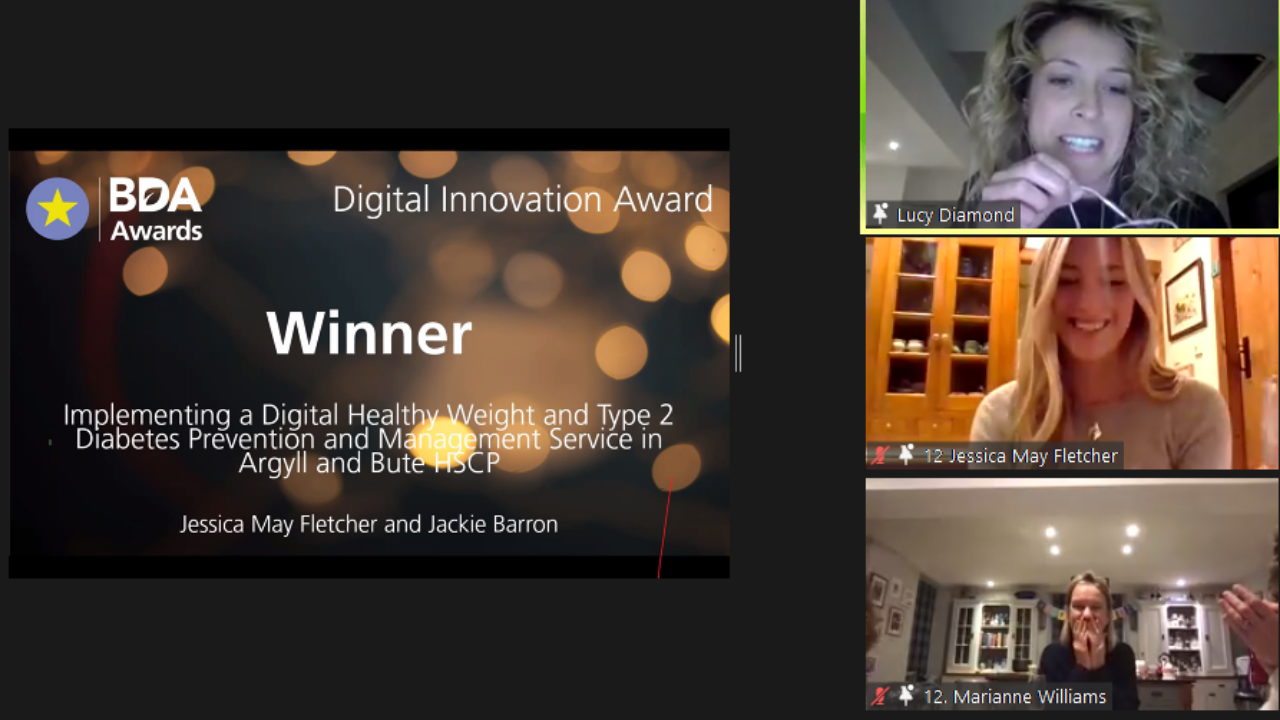 The Rising Star Award recognises a member who has made a significant impact in dietetics throughout their career and has been working in the profession for less than ten years.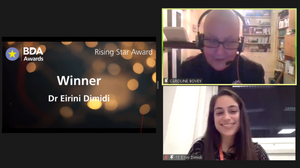 Shortlisted: Briony Caffrey, Cristian Costas Batlle, Dr Eirini Dimidi
Awarded to: Dr Eirini Dimidi
The judging panel said: "Dr Eirini Dimidi is a leading dietitian and researcher in the field of diet and gut health and disease. Despite only graduating from her BSc in Nutrition and Dietetics ten years ago, her work has not only advanced the understanding of the role of diet in gut health and disease, but has also shaped future dietitians and championed the role of dietitians in patients' care.
"This is evident in both her research and educational work in the dietetic field, and acknowledged through numerous prizes and awards."
We would also like to highly commend Cristian Costas Batlle.
Sponsored by Yakult, the Student Champion Award was created in recognition of a dietetic student member who champions the profession and the BDA.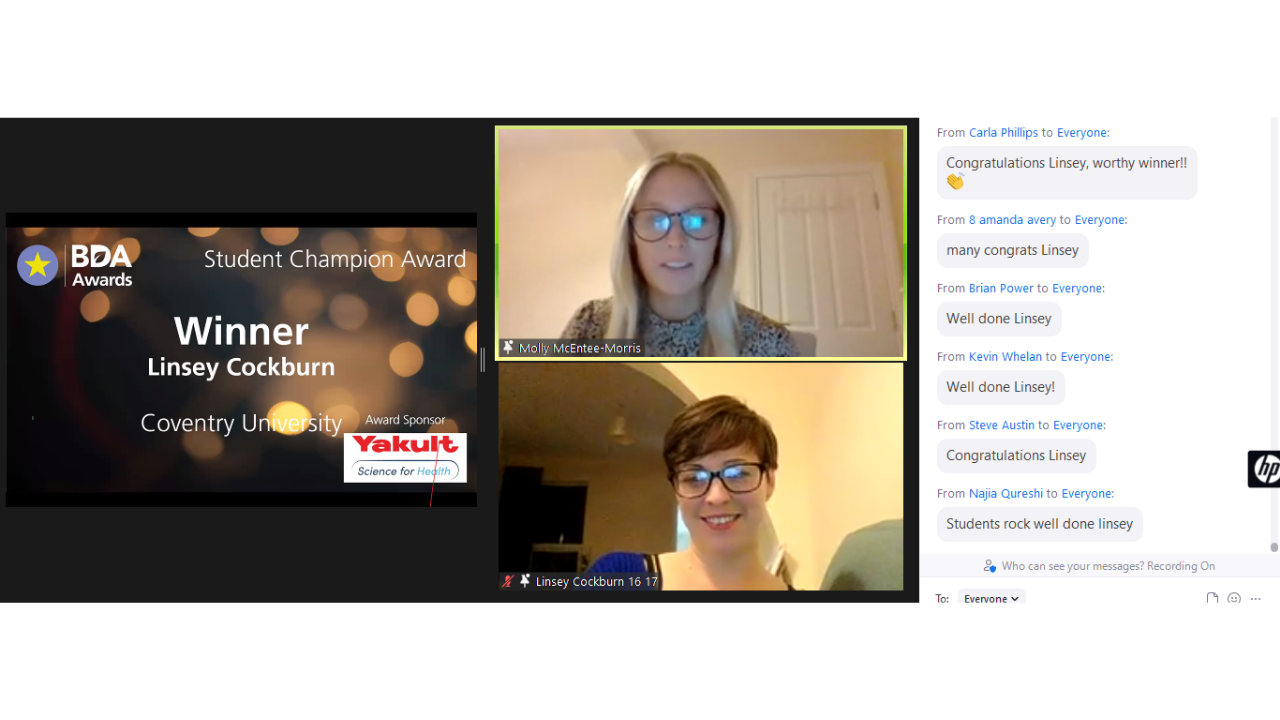 Shortlisted: Linsey Cockburn, Saffron Snowden, Klaudia Sokolowska
Awarded to: Linsey Cockburn
The judging panel said: "Linsey has a BSc degree in Genetics and worked in hospitality before re-engaging with education as a dietetic student at Coventry University. In her final academic year, she was the course rep for her cohort, being a vital conduit of information and feedback between students and faculty during the beginning of the COVID-19 outbreak. Linsey has championed Nutrition and Dietetics through her insight into health and wellbeing, and her roles as course representative and BDA Obesity Specialist Group student representative setting up their Instagram account and is an active and equal member of the specialist group's media team.''
General Education Trust Awards
The General Education Trust Fund has a long history of supporting the science and practice of dietetics through the promotion of national awards which recognise the excellent work carried out by many BDA members, from publishing original research work, through to innovation in practice and educational resources.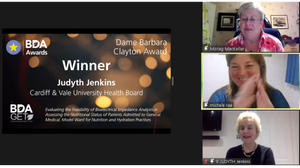 The Dame Barbara Clayton Award for dietetic innovation was awarded to Judyth Jenkins for Evaluating the Feasibility of Bioelectrical Impedance Analysis in Assessing the Nutritional Status of Patients Admitted to General Medical, Model Ward for Nutrition and Hydration Practises.
The judging panel said: "This work demonstrates innovation in patient care and is particularly interested in the potential for further development in the future. Of particular merit is the cross-profession expertise involved in the programme."
The judges decided to jointly award this year's Elizabeth Washington Award for a published/presented educational work.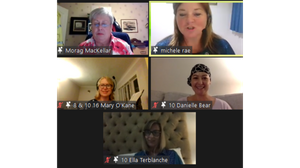 Mary O'Kane was named as a winner for Improving the nutritional assessment and nutritional aftercare of people undergoing bariatric surgery in the UK.
The judging panel said: "Excellent piece of rigorous multidisciplinary research which will give dietitians high standing outside the profession in addition to addressing an important dietetic issue for dietitians themselves."
Danielle Bear and Ella Terblanche also won the award for Critical Care Specialist Group Guidance on management of nutrition and dietetic services during the COVID-19 pandemic
The judging panel said: "This is an excellent resource produced quickly at a time of urgent need -really useful for dietitians as evidenced by their feedback.
The Rose Simmonds Award for a published piece of work in a peer reviewed journal was awarded to Lindsay Carnie for Impact on prognosis of early weight loss during palliative chemotherapy in patients diagnosed with advanced pancreatic cancer.
The judging panel said: "The methods were robust, and it was innovative to use clinical data in this way. It is refreshing to see someone use retrospective clinical data to answer an important research and clinical question. You often see these data to evaluate practice but rarely for these purposes. The results are applicable to many areas of dietetic practice especially in cancer and therefore have significant impact in dietetics.
"This article demonstrates the importance of having a dietitian in the MDT. The discussion was very good and clearly showed the role dietitians have in preventing weight loss in cancer. This was clearly a MDT study; the team obviously valued the dietetic input as the dietitian was first author.
"The fact that this is a paper from an MD team suggests that it will have significant potential in raising the external profile of the profession."
BDA Office-nominated awards
Our ambassadors work with governments, parliaments and assemblies, organisations, charities and professional bodies to represent the BDA, influence policy and advocate for dietetics. The Ambassador of the Year award recognises an ambassador who went above and beyond in that role.
Awarded to: Jill Stewart
The judging panel said: "Jill enthusiastically picked up the challenge of representing BDA NI Board and BDA NI members by presenting at a high level AHP Federation NI, Virtual Celebratory Event on AHPs Day 2020.
"Jill provided an engaging presentation, showcasing the work of public health dietitians in NI during the Covid-10 pandemic. Detailing how they reached out to food banks and charities that work with the most vulnerable people.
"Jill demonstrated how public health dietitians provided guidance to local councils and community organisations to ensure food parcels not only make nutritious meals, but also where possible, make the contents go further and add variety to food intake. Also how they have been working directly with volunteers to ensure food parcels contain suitable items for those who need to follow special diets for medical conditions such as diabetes, coeliac disease and cystic fibrosis.
"Jill described how in response to COVID-19 challenges, public health dietitians embraced new technology to deliver virtual cooking clubs and webinars hosted on digital platforms, which have enabled the continuation of practical dietetic led food growing and cooking courses for community groups.
"Positive feedback from Jill's input on behalf of the BDA at the event, indicated how attendees, including key BDA stakeholders, previously were unaware of the work of public health dietitians in NI. As a result of Jill's presentation requests have been received by the BDA for further information and engagement. Comments were also made on how professionally well delivered Jill's presentation was.
"Jill and another public health dietetic colleague provided a two page article for Dietetics Today, published February 2021. On a similar theme to her AHPs Day presentation, the article detailed how public health dietitians in NI have used technology to support their communities and rebuild public health.
"Both of these activities from a 26-year-old Band 5 dietitian demonstrate Jill's interest in the BDA and commitment to the dietetic profession. All in all, Jill has been a true Ambassador for the BDA and has greatly raised the profile of the dietetic profession in NI."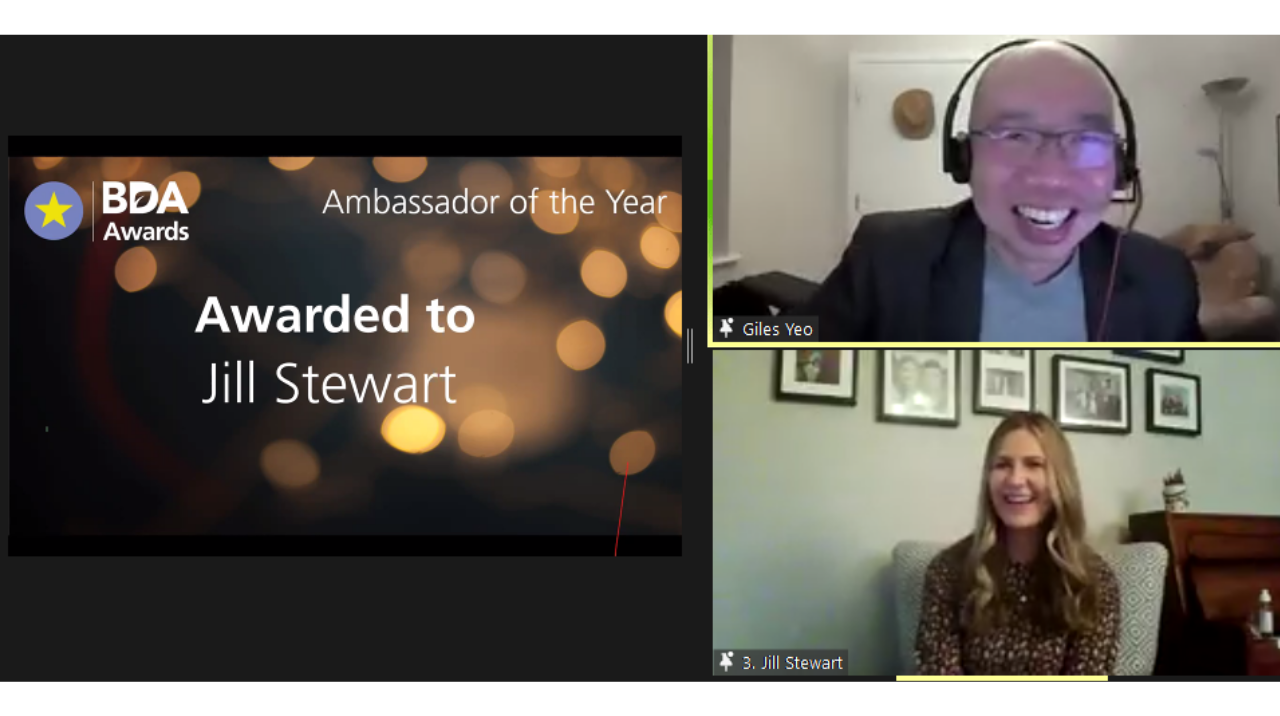 Our media presence and influence continues to increase through our volunteer media spokespeople who offer evidence-based nutritional information across TV, radio, digital and print media. The Media Spokesperson of the Year award recognises someone who has shown great commitment to this work.
Shortlisted: Dr Duane Mellor, Dr Linia Patel, Aisling Pigott, Clare Thornton-Wood
Awarded to: Dr Duane Mellor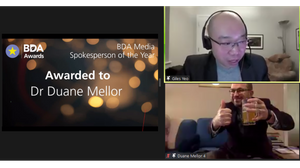 The judging panel said: "Duane has played an integral role in raising the profile of dietitians in the media and is a highly valued BDA spokesperson. He uses his platform to communicate scientifically accurate messages, helping people make informed decisions about their own food choices and health.
"Duane contributes not only as a spokesperson but as part of the editorial board of the public facing magazine, Healthier You. He consistently and effectively offers clear and engaging expert advice, ensuring that the dietetic voice cuts through the noise and myths surrounding nutrition."
Each year the BDA office recognises a member that has made an outstanding contribution to the PEN® system throughout the year.
Awarded to: Carly Killen
The judging panel said: "Carly has been awarded the PEN Achiever Award in acknowledgement of her continued commitment to supporting with updating the evidence base on The PEN System.
"Between 2020/2021 Carly contributed to numerous review topics including Pancreatitis, Occupational Allergies and Autism. In addition to this, Carly helped author an update to the Acute Renal Failure content. Voluntary contributions from members like Carly helps to ensure PEN's evidence base is up-to-date and relevant to UK members – maintaining PEN as one of the most valued BDA member benefits.
"The BDA and PEN team are extremely grateful for Carly's ongoing support with PEN."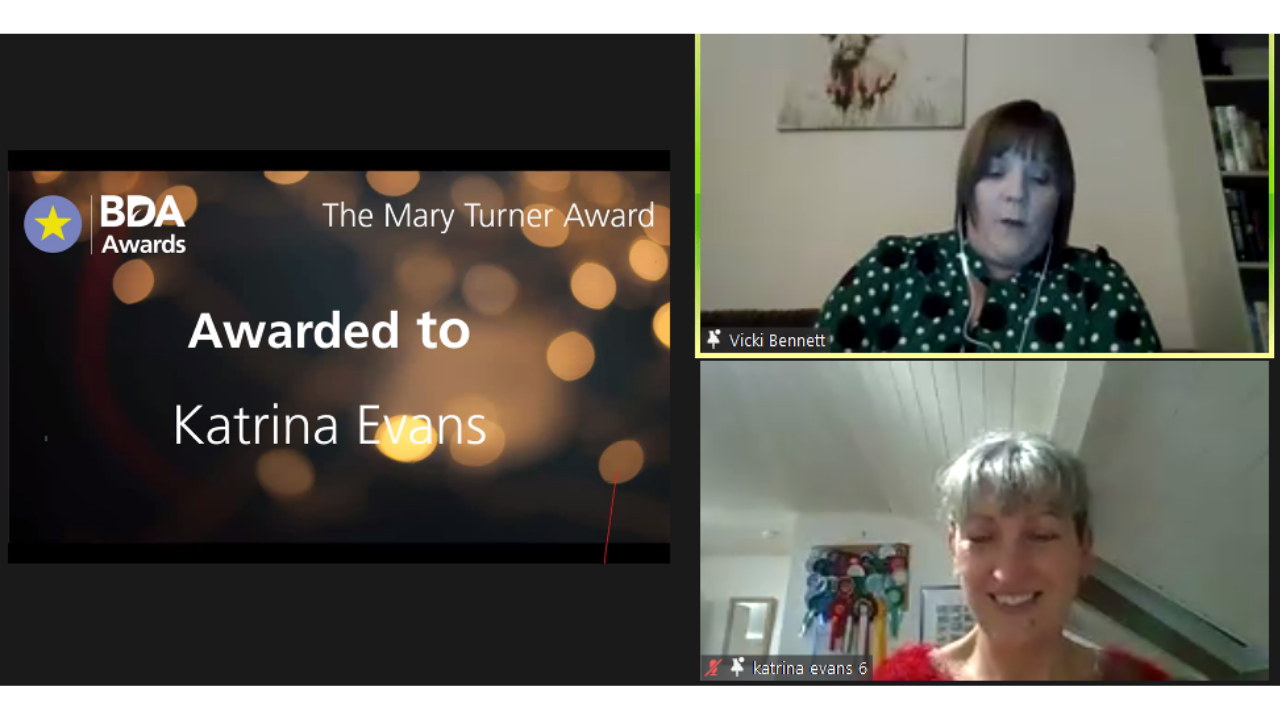 BDA trade union reps stand up for our members and dietetics. Our former President Mary Turner understood the importance of the Trade Union Rep role. The Mary Turner Award recognises excellence and commitment in our trade union representatives.
Shortlisted: Katherine Igidbashian, Katrina Evans
Awarded to: Katrina Evans
The judging panel said: "Katrina has been outstanding as a rep for many years and in particular over the period of the pandemic, she is also a member of TUNEC.
"Katherine is our young worker rep and is extremely enthusiastic and committed so we would like to recognise her efforts and give her encouragement for the future, she is also a member of TUNEC."
Celebrating group and branch achievements
Our 13 branches are our regional support and development network. They are vital, providing members with CPD events and opportunities to network, learn and share best practice with their dietetic peers at a local level. The Branch of the Year award recognises one Branch which has typified excellence and best practice in their region.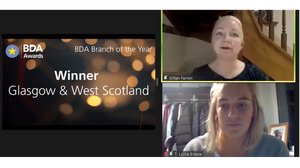 Awarded to: Glasgow and West Scotland
The judging panel said: "The Glasgow and West of Scotland committee has demonstrated a commitment to keeping its branch community informed and connected throughout the pandemic. The committee has focused on increasing its social media, online event and digital offerings allowing them to share learning and resources across the BDA network.
"The committee has focused on the provision of networking and CPD for student members, providing an essential community for emerging dietitians. This has included creating student specific resources to showcase the range work of dietitians across Scotland, the BDA specialist groups and the Scotland Board."
Each specialist group makes a unique and significant contribution to the BDA's external work; offering the most current information, leadership and expertise to BDA members working or specialising in a professional area. The Group of the Year award recognises one specialist group which has demonstrated outstanding leadership and innovation in their specialist area.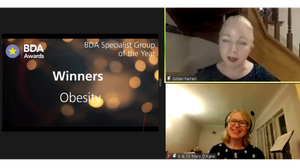 Shortlisted: Maternal and Fertility Specialist Group, Obesity Specialist Group, Older People Specialist Group, Oncology Specialist Group, Paediatric Specialist Group
Awarded to: Obesity Specialist Group
The judging panel said: "The Obesity Specialist Group has demonstrated a commitment to working with internal and external stakeholders to ensure that dietitians guide future policy decisions regarding obesity. The committee has worked to successfully influence and lobby for change and their wide-ranging engagement with HCP's, Government and the BDA has significantly contributed to the UK-wide obesity strategy.
"To complement work at a national level the committee has supported their members by providing a sense of community, producing guidance, resources, and tools to be used for all aspects of practice. This includes vital resources and education for BDA members during the ongoing pandemic.''
This year's honourees announced
The Roll of Honour recognises and rewards many of our members who have contributed to a defined piece of work or activity in the past year.
Thushara Dassanayake
Vicky Davies
Denise Kennedy
Lauren Kelly
Gopi Mistry
Sue Perry
Jessica Singh
The Ibex recognises individuals who have made significant contributions to the profession, either locally or in a particular speciality. Congratulations to: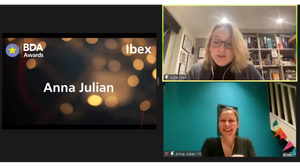 Anna Julian
The Honours Committee said: "Anna has demonstrated a high level of commitment to the profession. She was a founder member of the virtual RD Journal Club and an active member of the BDA West of Scotland Branch (being Chair 2013-2015). Anna has a keen interest and expertise in advance practice, being seconded for a period of time to NHS Education Scotland."
Karen Ward
The Honours Committee said: "Karen is co-founder of the BDA Critical Care Specialist Group (CCSG) and has represented the BDA and the profession on both a national and international level along with PENG and involved in the development of COVID-19 guidelines such as the bolus feeding in COVID-19 patients guidance. Her particular knowledge and expertise in Acute Kidney Injury (AKI) have also made significant contributions to the evidence base for AKI."
Rhys White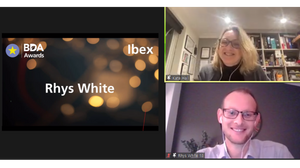 The Honours Committee said: "Rhys is acting head of Dietetics at Guy's and St Thomas' NHS Foundation Trust. He has been a tutor on the PENG Clinical update for 11 years. Rhys is part of the tutor team that has transformed the clinical update so that it can be run virtually due to COVID, adapting the classroom content so it is suitable for virtual delivery. Through the PENG clinical update course he developed an interest in refeeding syndrome and co-authored the refeeding section in the 2018 clinical pocket guide. He has written chapters on enteral feeding and cancer cachexia for the Manual of Dietetic Practice.
"Rhys was meeting organiser for the Oncology Specialist Group for three years. This committee won BDA Specialist Group of the Year in 2018 during his time on the committee."
A Fellowship is given in recognition of over ten years of committed and inspirational service to the BDA and dietetic profession at a national or international level. Congratulations to: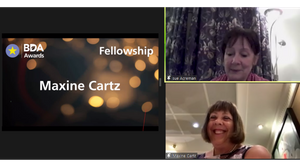 Maxine Cartz
The Honours Committee said: "Maxine chaired the multidisciplinary working group which developed the BDA's 'Nutrition & Hydration Digest'. Previous collaborations include 'Better Hospital Food' and 'Operation Hospital Food'. Maxine has championed dietitians' role in food service leading to recognition as a specialist area of dietetic practice. Her expertise is sought by PHE, FSA and HCA."
Read our Q&A with Maxine here.
Fiona Moor
The Honours Committee said: "Fiona has given unstintingly her time and expertise over many years and in many roles within the BDA, including branch, specialist group, Trade Union, committee, Board and Council.
"Fiona led the Education (later Education and Professional Practice Board) to deliver core guidance for the profession including Practice Supervision and especially the most recent Curriculum Framework for pre-registration education of dietitians. Her personal and professional commitment to ensure BDA standards and reputation are upheld is evident in all that she does. She led and represented the profession as it sought to establish the very first apprenticeship route of entry to the profession. This required a huge amount of personal time and dedication – to be first point of contact and become a subject expert in a new and evolving national initiative."
Alison Smith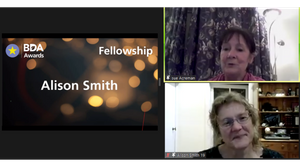 The Honours Committee said: "Alison has tirelessly represented the profession as OPSG committee member (Chair 2016-2020), BDA spokesperson and BDA Ambassador at national and international level e.g IDDSI development; collaborative work with national bodies including British Geriatric Society, and the Royal Society of Physicians. Alison is currently Chairs the Advisory Committee on Borderline Substances (ACBS)."
Read our Q&A with Alison here.
If you know someone who has made a real impact on dietetics, nominate them for a BDA Honour today. You can see all past awardees in our Hall of Fame here.
Applications for the 2022 Awards will open early next year.