18 Nov 2021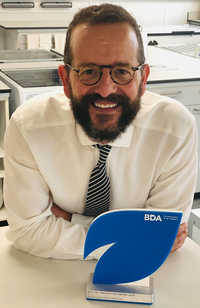 Fellow of the British Dietetic Association, Professor Kevin Whelan, has been appointed to the Scientific Advisory Committee on Nutrition (SACN).
SACN advises UK government organisations on nutrition and related health matters, on everything from how much Vitamin D we should be getting, nutrient requirements in the military, and more recently on the role of nutrition in COVID.
SACN members are appointed as independent scientific experts on the basis of their specific skills and knowledge, with Professor Whelan appointed due to his expertise in carbohydrates including fibre.
Andy Burman, BDA CEO, said: "We are absolutely delighted to see dietitian and BDA Fellow, Professor Kevin Whelan, become a member of SACN.
"Professor Whelan will be a strong addition to the SACN team. He is committed to high standards in nutrition and dietetics throughout his career and is an inspiration to many in the dietetic profession.
"I have no doubt the skill and experience he brings to SACN, as a Professor of Dietetics, will only serve to strengthen the important work of the committee."
Professor Kevin Whelan said: "I am honoured to be appointed as a member of SACN. The work of the committee is so important in ensuring Public Health England, other public bodies, and the UK government receive the very best assessment of scientific evidence in nutrition.
"Even as a student dietitian I remember how critical the advice and recommendations made by SACN and previous committees were. All these years later, I feel privileged to be able to now make my own contribution to the committee."
Kevin is the Professor of Dietetics and Head of Department of Nutritional Sciences at King's College London. He has undertaken extensive research on probiotics, prebiotics, fibre and dietary interventions in gastrointestinal health and disease. He has published over 170 papers in peer-reviewed journals and was recently named in the 2021 list of Highly Cited Researchers for publishing multiple highly cited research studies ranking in the top 1% of all papers. He is also the Series Editor of the Advanced Nutrition and Dietetics book series from the British Dietetic Association.
As a Professor of Dietetics, Kevin is an advocate of dietetic research and evidence-based practice. He uses his platform to challenge pseudo-science in nutrition and champion high-quality research as well as the successes of students and colleagues.
This will not be the first time Professor Whelan has been involved in national and international advisory groups. He has held previous membership of the ILSI Expert Panel on Prebiotics, the NIHR/HEE Clinical Academic Programme Awards Panel and the NICE Quality Standards Group for Inflammatory Bowel Disease.
In 2012 he was awarded the Nutrition Society Sir David Cuthbertson Medal in recognition of research that has advanced clinical nutrition and impacted on patient care and in 2017 he was appointed a Fellow of the British Dietetic Association.
---
Dietitians are highly qualified health professionals that assess, diagnose and treat diet and nutrition problems at an individual and wider public health level. They are statutorily regulated by the Health and Care Professions Council (HCPC), alongside other Allied Health Professions.
Dietitians use the most up to date public health and scientific research on food, health and disease, which they translate into practical guidance to enable people to make appropriate lifestyle and food choices. They work in the NHS, private practice, industry, education, research, sport, media and government. Their advice influences food and health policy across the spectrum from government and global industry to local communities and individuals.
For more information / interview requests, please contact the BDA Press Office on: 0121 200 8018